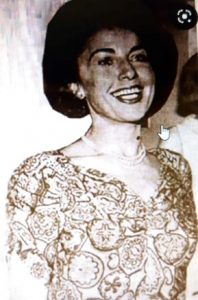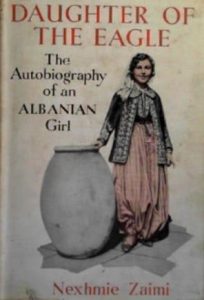 October 20, 2022
Nexhmie Zaimi was born in Libohova, Albania on May 14, 1917, died on April 18, 2003 in Santa Barbara, California) and was a well-known Albanian American author and journalist.
In Albania, when Nexhmie Zaimi was twelve and a half, her father visited her in her bedroom and kept telling her that she would have to start wearing a veil every time she left the house. When he handed her the veil, without saying a word, she opened the window and threw the scarf onto the neighbor's roof, where she had stayed for several days. Her father, angry, called her a "wild goat", equivalent to little boys in Albania and left the room. This rebellious act would set the tone to Zaimi's adult life.
Nexhmie was one of the first six girls (along with her brother Mehmet) to attend high school in Albania, led by Presbyterian American missionaries. While she was a teenager in Albania, her traditional family tried to force her to marry. She fled Albania and became the first woman from Albania to achieve a higher education at Wellesley College. She lived with assistant employee Florence Spencer Duryea and soon became a US citizen.
After World War II, Nexhmie went to Italy, where she worked for several years, helping Albanians and other refugees who had emigrated to Italy. She spent some time in Calabria investigating the history of Arbëreshë Albanians and their medieval Albanian dialect. Precisely for working with refugees and the extraordinary contributions she offered in helping them, Nexhmie became "Comandatoressa della Coronna d'Italia", meaning "Commander of the Red Cross of Italy" and was awarded one of the best Italian medals art. Over the years of service in the area she also left many notes, recording the full chronicle of her activity in Italy after World War II.
While attending Columbia University's Postgraduate School of Journalism in New York City, she married Henry M. Margolis, a lawyer and businessman, in the 1940s. They were divorced in the early 1950s. She had a son, the writer Eric Margolis.
In 1938, her autobiographical book Daughter of the Eagle was published and became a best-selling American book.
During World War II, she worked for the Office of Strategic Services (OSS) (predecessor of the Central Intelligence Agency). After the war, she took a very active role in Albanian-American issues, becoming president of the Pan Albanian Association, Vatra. She helped Albanian immigrants and helped support her family in Albania.
In the early 1950s, she was one of the first American journalists to report from the Middle East. She interviewed Egypt's leader Gamal Abdel Nasser, Anwar Sadat and Hussein's King of Jordan. She was also one of the first journalists to write and lecture extensively about Palestinian refugees, whose condition was practically unknown at the time in the United States. She submitted a study to the US State Department in which it warned that if the Palestinian refugee problem is not solved, it would blow up in America's face in fifty years. Her broadcasting and speaking career was cut short after the newspapers she wrote for were pressured to stop publishing her writing and sustained threats were made against her and her young son's life.
As she would convey to the American media, in the interview with the king of Jordan, Nexhmie Zaimi would also put in her notebook her first impressions of the head of this Arab country. "I understood him in the first moments," the Albanian journalist would write. "He was courteous in conversation and from time to time things he deemed important, he would repeat twice, so that their message would reach complete and without hesitation to the simple reader." Following the memories of the conversation with King Hussein, Nexhmie Zaimi underlines another detail about the moments of separation with him.
"When we finished the interview, King Hussein told me he would accompany me to the entrance of the royal palace. He even pointed out that he had reserved a surprise for me, the Albanian journalist who had come from afar for his opinion. As we descended the palace's stairs, on both sides of them we were honored with a stand prepared 60 long guards dressed in ceremonial uniform. Someone told me that I could communicate with them. "English," I said to him. "No, Albanian," he told me, stopping in front of them. "Albanian?! "Yes, yes Albanian," insisted King Hussein. "How come," I asked him surprised. "These are all Albanians," he explained the surprise he had decided to give me in separation. When I asked him why he had chosen Albanians to be his guards, King Hussein explained that they are loyal and brave.
During this period, Ms. Zaimi suffered severe glaucoma and other eye diseases that crippled her and prevented her from writing another book. She worked for the Albanian community in New York and New Jersey, translating in the New York Criminal Courts, and engaging in community activities and helping war refugees in Europe. She also lived for periods in Paris, Rome, Geneva and Cairo. She was a strong voice in the USA against the communist regime of Albania. Her home in Manhattan was constantly packed with journalists, artists, writers, diplomats, UN staff and visitors from Europe and the Middle East.
Due to the onset of blindness, Nexhmie Zaimi willingly left New York in the 1980s and moved to a retirement community in Santa Barbara, California. In the late 80's, she took care of three children from Kosovo who were seriously injured in a NATO air strike accident. She continued to write her second book until her death. Remaining proud and defiant until the end, in 2003, her body finally surrendered.
Nexhma's ties with her family in Tirana were always very close. She didn't meet them for decades, but her memory of Albania and her love for family always remained very strong. She suffered constant fears that her family members would be arrested and tortured, or even killed by state security, especially when she became famous in Albanian political issues in the US. In many of her analyses in American media, starting with "CNN", she, promoting the best values of Albanians, forcefully whipped the communist regime established in Albania immediately after World War II. She did not for a moment break her ties with her homeland and was always proud of being Albanian.
In the late 1940s, 1950s and 1960s, Nexhmie tried to save her family from hunger, sending regular loads of food and clothing. So happened when she had little cash after the divorce in 1949. Her family in Tirana was declared "Enemy of the People" by the Communists, just because her relatives had attended the American school. Their political situation was also aggravated by the fact that Nexhmie and her brother Muhammad had served some time as a translator for the British Embassy in Tirana. Her engagement as one of the well-known journalists in the Western media made the position of her family in Tirana even worse.
She visited Albania twice: the first time in 1939 and the second time in 1986 when she was excluded as non-women from the Communist authorities. In Albania and New York, she was widely known as the "First Lady of Albania". Italy had made her a "Knights Commander of the Crown of Italy".
(Originally published by Bexhet Cobani)
This post is in: Uncategorized