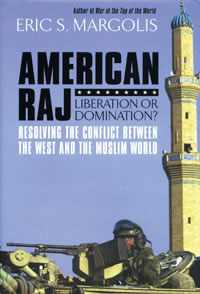 FINALIST IN THE 2009 GOVERNOR GENERAL'S AWARD – NON FICTION
Journalist Eric S. Margolis brings his lifetime of insight into the complex reality of the way the Muslim world really operates.
American Raj: Liberation or Domination United States and the Muslim World is the culmination of veteran journalist and foreign policy expert Eric S. Margolis' years of on-the-ground reporting and analysis in the Middle East and Asia. Margolis brings the weight of his authority on the Middle East to answer the questions "How did we get to this place in history and can this conflict ever be resolved?"
American Raj also discusses such topics as:
– Understanding why there is so much anger against the west in the Muslim world
– Why al Qaeda is so popular and can it be defeated
– How each conflict in the Muslim world feeds on the others
– How oil drives western policy in the Muslim world.
Margolis takes the reader behind the conventional headlines and into the thinking and world view of Islamic radicals throughout the Muslim world. He identifies the historical, political and religious factors that have played such a huge role in generating hostility towards the West. More important, it offers a comprehensive roadmap to a workable and lasting peace.
This post is in: Books